PTSD. We have heard the term for decades. We know the signs. And, many of us struggle with the reality of Post-Traumatic Stress Syndrome on a daily basis. How can something as simple as journaling help with PTSD?
I am not a therapist, a psychologist, or a counselor. What I am is a Veteran who is dealing with PTSD like many others. And I want to share one of the things that has helped me immensely.
NOTE: If you are having problems with PTSD that you cannot deal with, remember that the VA offers mental health counseling. Simply call your nearest VA and let them know what is happening. In addition, the new national crisis line is available at 988.
Journaling
I figure most of us have been told by a counselor at one time or another to keep a journal. We may start out with good intentions and write in a notebook for three or four days before we finally give up on it and say…this isn't working. But, hang in there. What have you been writing?
In general, people do not do very well being brutally honest with themselves. This is true regardless of if you are a Veteran or not. This crosses gender boundaries. It goes for everyone that people in general don't do a very good job of being absolutely honest with what they are feeling, how they are adjusting, and how they are dealing with this circus we call life.
We get by with that in relations. Even in our closest family relations we get by with hiding a lot of what we feel
Be Honest With Yourself
Journaling requires being totally candid about who you are and what you feel. Counselors always say to get a journal that is going to be for your eyes only, and this is the best advice. That way you don't feel self-conscious about what you write in there. If there is a chance others will read it, we have a tendency to censor ourselves. There should be no censorship at all in what you write in this journal.
I keep two journals. One is my journal which I write in most days, a typical journal that holds my thoughts and impressions of the day, my plans and dreams for the future, and all of the regular things that you consider a journal to be used for.
I'll be totally honest here. It took me several times of starting and stopping a journal before I found the secret for me. I enjoy writing actually, but I needed something to make me want to write, and that was getting a good pen to use and a nice journal to write in. I chose to start using a Fountain Pen and picked up a Pilot Metropolitan Fountain Pen from Amazon. Then, my daughter bought me a leather bound journal from Amazon that just made the journal keeping a pleasure.
But then there is my other journal. This is one that no one sees but me. I keep it in a place where only I know, and that journal is where I unload. I don't write in it every day, but I use it often, and it is where the rawest emotion is expressed. Anger, fear, sadness, guilt, all of it is written in the pages of the journal. And the amazing thing is, once it has been written down, there is a sort of unburdening. People have discovered that expressive writing can help them deal with their feelings of anger, depression, or anxiety.
No, a journal cannot talk back to you, or commiserate with you over things that have happened. But just getting it out of your mind and putting it on paper has benefit. It's like clearing out some of the trash that has been hanging around in my head to make way for some of the good stuff. And, it works.
Am I saying that all you need to do is start writing things down and your PTSD will magically get better? Not at all. We seek out professional help because we often need it. But, I am saying that journaling may provide an extra means of dealing with some of the things in your mind that you can't seem to get rid of.
Sign up for our newsletter and access to the NWAVet Veteran Resource Library!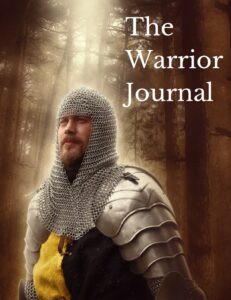 We are offering a free downloadable and printable Warrior's Journal. All you need to do is enter your email and you will receive an email with the password to our Veteran Resource library. There are several free resources there you can take advantage of, but please take the time to grab a copy of the Warrior's Journal. It is a guided journal which can help keep you focused on the battles ahead for the day, as well as give you space to record anything you need to.