The PACT Act – The First Month by Numbers
On January 31, VA Secretary Denis McDonough gave his monthly press conference in which he shared January's numbers for PACT Act claims. For background, remember that even though PACT Act claims could begin being filed as of August 10, 2022 when the act was signed into law, it wasn't until January 1 of this year that the VA began to actually process them. This was in order for the raters to be adequately trained in processing for the many new disabilities added. It also gave the VA time to hire more raters to help handle the influx of new claims.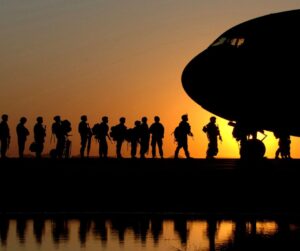 Here are the numbers as they lined up at the end of January.
PACT Act Claims filed since Aug 10, 2022 – 278,000
PACT Act claims processed in January – 39,250
PACT Act claims approved – 33,266
As can be seen by the numbers, the VA managed to process around 15% of the claims in one month. Of those claims, nearly 85% have been approved.
So what does all of this mean in the near term?
Be Patient. The VA is working to process the claims as quickly as possible, but with the literally hundreds of thousands of claims being submitted, it may take a while to get to yours. It will also depend on the complexity of your claim.
The VA is in the middle of 'aggressively' hiring raters. There are virtual job fairs and in-person job fairs over the next two months as the VA attempts to hire even more raters to help handle the claims.
The VA is also hiring nurses. As more Veterans are admitted into the VA Healthcare system, there will be a need for many more nurses. In each year over the next 3 years, the VA is projected to hire 10,000 RNs, 1800 LPNs, and 2400 nursing assistants.
FILE NOW! The VA has been putting this message out since August of last year when the law went into effect. If you are a Gulf War Veteran and you have any of the disabilities listed in the Act, don't wait any longer. File a claim now.
Note that when the term Gulf War Veteran is used here, it refers to any Veteran who has deployed in support of the Persian Gulf War or any of the contingency operations afterward, and was present at some point in one of the following countries OR operating in the airspace over them.
On or after August 2, 1990
Bahrain
Iraq
Kuwait
Oman
Qatar
Saudi Arabia
Somalia
The United Arab Emirates (UAE)
The airspace above any of these locations
On or after September 11, 2001
Afghanistan
Djibouti
Egypt
Jordan
Lebanon
Syria
Uzbekistan
Yemen
The airspace above any of these locations
As always, we hope this information is helpful. Please share it with others. If you have comments or questions, please leave them below in the comment section or feel free to email info@nwavet.org.